2015 has been busy, so far. I had a great time working with director Bill Kinder on "White Rabbit." He wanted some very interesting things blended musically and I had a blast collaborating with him. I have just completed work on "Rock Dog" directed by Ash Brannon where I was asked write a song for a pivotal moment in the movie and a lot of practical music performed by the musicians in the show. It was really fun and am looking forward to it's release. I am finishing composition on "The Adventures of MissFit" directed by Gregg Simpson and again his influence has led me in some exciting and surprising places.
I'll post some of that music shortly.

Bruno In Guinea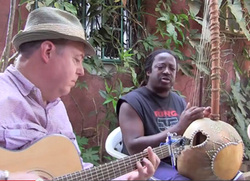 Prince Diabate and me practicing in Guinea-Conakry. We will be performing regularly in 2015. Contact me for more information.
---
---
Bruno In The Studio, Scoring Music for Pixar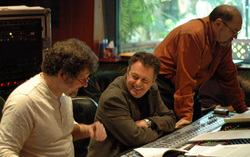 Frank Wolf, Jonathan Sacks and me, mixing the score to Wall-E (VG).
---